Products on Show
DAY 1: VESevo launches non-destructive tire measurement device
VESevo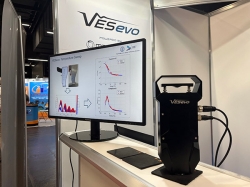 The VESevo Generation 2 device for non-destructive measurement of the viscoelasticity of tires has been launched by VESevo at Professional MotorSport World Expo 2022.

Unlike conventional tire testing devices which require a tread sample to be removed from a tire's surface, VESevo's latest device enables the analysis of tires quickly and efficiently without making the tested tires unusable.

The company's latest-generation device delivers a range of benefits for users on the racetrack, such as being able to predict adhesive and hysteretic grip and even a tire's optimal thermal working range. Furthermore, the device can aid in selecting the correct tire compound for a team's strategy by delivering reliable data on a tire's performance.

VESevo's device can also be used within a production or manufacturing environment as it enables engineers to monitor the quality and uniformity of tires in addition to helping to determine the best thermal curing cycles.

To date, the VESevo Generation 2 device has been used within some of the motorsport industry's top disciplines including Formula 1, Formula E, the World Rally Championship and MotoGP.

"VESevo's Generation 2 is a non-destructive device for testing the viscoelasticity of tire tread compounds. Directly on track or wherever you are, the device is able to categorize the properties and the loss factor of the tire," comments Andrea Genovese, CEO, VESevo. "This means you are able to predict the behavior and the working range of the tire during a race. The most powerful aspect of the device is that it is totally portable and you put it onto the tire without any destructive or invasive effects."

VESevo can be found at booth #6042.