2023 PRODUCTS ON SHOW
Day 1: Druck showcases motorsport sensor for precision and performance
Druck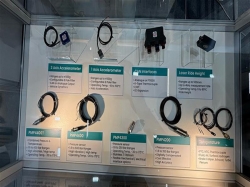 Leading global motorsport teams have trusted Druck's pressure sensors for many years due to the performance, speed and reliability they provide, which is of paramount importance in the motorsport arena.

"We're excited to be at the show with our partner Elite Sensors to showcase the latest and best technologies for motorsport and ultra-high-performance road car applications," said Metin Akpinar, regional sales leader, central European region (CER), at Druck.

Being showcased at the expo is Druck's 4400T, a pinnacle motorsport sensor (PMP4400T) that combines stable pressure and temperature measurements. Designed and engineered to withstand demanding racing conditions, and offering competitive lead times, the 4400T is an ideal on-vehicle solution for elite motorsport applications.

Akpinar explained, "In an industry where milliseconds can make the difference, Druck, a Baker Hughes business, is able to offer a combined pressure and temperature sensor that is ideal for a range of critical motorsport applications. With accuracy down to ±0.25% FS up to pressures of 600 bar absolute, Druck's new 4400T is ideal for use in many applications, including fuels, oils, coolants and hydraulic system pressures, in harsh environments with high temperature and vibration levels."

He continued, "We are showcasing our industry-leading combined pressure and temperature sensor, PMP4400T, as well as our range of award-winning test and calibration products."

Druck's motorsport sensors have been used in Formula Series, MotoGP, the World Rally Championship, Nascar, Indy Racing League and many more race series.

Visit Booth 6020 to find out how Druck's 4400T pinnacle motorsport sensor can deliver accurate and reliable pressure and temperature measurements, race after race.