2023 PRODUCTS ON SHOW
Day 1: Sportech Engineering unveils steering systems for historic motorsport and restomod vehicles
Sportech Engineering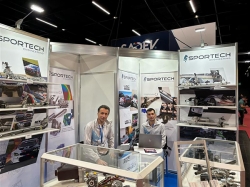 Sportech Engineering, a renowned provider of motorsport and high-performance vehicle power steering systems, is showcasing its latest range of products designated for historic motorsport and restomod enthusiasts.

Among the vehicles that can benefit from these new steering systems are the Peugeot 306 kit car, Subaru Impreza WRC, Lancia Delta Integrale, Porsche 911, Ferrari Testarossa, and many others that have left a mark in automotive history. Sportech's products are tailored to meet the exacting requirements of customers participating in vintage rallying and racing events.

The company's presence at the event demonstrates its commitment to serving its customer base and showcasing its latest offerings. Mario Fornaris, CEO of Sportech Engineering, explained, "The show is our main promotional activity of the year, where we can meet our customers and exhibit our products."

In addition to its existing hydraulic power steering systems, Sportech Engineering is introducing electric power steering systems this year.

According to the company, the development of electric power steering systems aligns with the industry's shift toward electric vehicles, and presents a considerable challenge in meeting FIA technical regulations while ensuring top-notch performance and cost-efficiency.

"In the E vehicles transition, it is a real challenge to develop new products according to the FIA technical regulations, ensure the required performance and keep the costs under control," said Fornaris.

Visit Sportech Engineering at Booth 4050 to explore the company's latest offerings and witness the future of historic motorsport and restomod vehicle technology.