Products on Show
Latest 60V motors to hybridize race vehicle systems
XAP Technology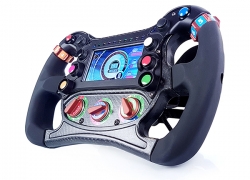 Since 1996, XAP Technology has designed, manufactured and maintained innovative products for the racing industry. Most international championships (Formula E, Formula 2, Formula 3, Rally, LMP3, etc,) use at least one of its products. This year, XAP Technology started to design and manufacture electrical motors up to 60V, allowing hybridization of existing systems. It completes the global system architecture that XAP Technology provides to customers.

XAP Technology is honored to present its new-generation technologies for the 2022 Formula E and Formula 2 championships at PMW Expo 2021. The company specializes in drivers and system machine interfaces, power distribution and electrical modules, gearbox actuators, air conditioning and electrical and powertrain solutions.

XAP Technology manages 90% of its production, internally for an optimal design and complete chain control. All XAP Technology products pass through its own engineering department, melding the company's mechanical, electrical, electronic, electromechanical and software abilities.