2023 PRODUCTS ON SHOW
Day 2: NTP showcases Bilstein Dampers for racing and street cars
NTP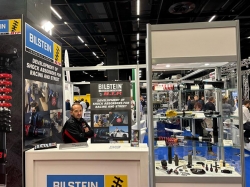 NTP is Italy's largest distributor of tuning and motorsport products. In its Bilstein Technical Center (one of five worldwide), it develops dampers for industrial systems, vintage cars and prototypes. Its chassis is also used in racing cars around the world – in circuits, rallies and hill climbs.

At the expo, the company is exhibiting its Bilstein dampers for the Porsche 911, Yaris GR Rally, Lancia Delta Integrale, Ferrari and more.

The company's CEO, Joe Trettl, explained, "As Bilstein Technical Center of Italy, we develop and build suspension for racing and street cars. We get many requests from the international market, so we find that PMW is the right exhibition to show our knowledge and showcase our shock absorber."

In recent years, NTP has supplied several Italian championships with its in-house suspension solution, including the Mini Challenge Italy (R56 and F56), Lotus Cup Italia, Toyota GR Yaris Rally Cup, Porsche Cayman Cup and Alfa 147 GTA Cup.

Trettl added, "With our mobile workshop we are equipped to follow the development of structures on the track for racing cars and also work with several Italian (and foreign) car manufacturers to set up the cars on prestige tracks such as the Nürburgring-Nordschleife, the Centro Sperimentale di Nardo or the Technical Center of Balocco."

NTP is exhibiting with other Italian motorsport companies at the RPM Italy Booth 5000/6001.