Products on Show
DAY 1: MoTeC outlines the advanced capabilities of its GPRP electronic control units
MoTeC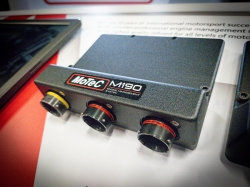 Electronic control unit specialist MoTeC is discussing its latest GPRP ECUs for engine and gearbox control with visitors to booth #6044.

The GPRP Pro and GPRP-DI Pro packages are MoTeC's new torque-based engine and gearbox control firmware for port and direct injection applications. Both packages can be used with new and existing M1 hardware which enables current customers with MoTeC ECUs to upgrade to the new firmware remotely.

MoTeC's new firmware places a firm focus on calculating and controlling engine torque by throttle opening and ignition control. Many key features are enabled with the GPRP Pro and GPRP-DI Pro

packages, including torque-based throttle control to deliver a faster control response and improved vehicle drivability and seamless transitions.

Additional features of the new solution include, but are not limited to, sophisticated traction control with dynamically adjustable closed-loop control, clutch slip control to protect or maximize clutch performance and configurable throttle pedal options for improved consistency, control and feel.

"MoTeC is a world-leading specialist in electronic control systems, data acquisition and programmable software for ICE, EV and hybrid applications," says Paul Bower, applications engineer, MoTeC. "Our commitment to continual innovation in line with changing technologies is reflected in our range of versatile, expandable solutions that are well suited to professional teams and racing categories alike. We our showcasing our M1 Integration Tool for Simulink and our new PRO firmware Packages at PMW Expo 2022."

MoTeC can be found at booth #6044.