Products on Show
DAY 1: The latest EMU Pro and PMU 24DL electronics systems from Ecumaster
Ecumaster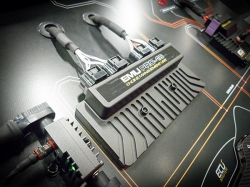 Poland-based company Ecumaster, a manufacturer of complete electronics systems for tuning and professional motorsport, is showing two of its new products at this year's PMW Expo – the EMU Pro and the PMU 24DL.

Ecumaster's new EMU Pro unit is designed for use within the professional motorsport sector and features a comprehensive feature set to offer vast tuning possibilities. The solution is a standalone engine management system which has been designed to operate four-stroke, two-stroke or rotary engines with up to 12 cylinders (10 with fully sequential control). An advanced fueling model, including closed-loop short- and long-term trim algorithms, combined with a fuel film model helps to give exceptional accuracy for injector control.

Alongside the EMU Pro unit sits the company's PMU 24DL, an enhanced power management unit which benefits from 24 high-side outputs and internal datalogging memory. All of the solution's output states, voltage and current information are transmitted via CANbus to dash displays to inform drivers of potential problems. Furthermore, all of the system's logged data can be downloaded from the device for analysis after a race or track event.

"Our main goal of Professional MotorSport World Expo is to show our new products, the EMU Pro and the PMU 24DL," says Jakub Kojder, CEO, Ecumaster. "This is the premiere for our latest products and the first time we are showing them in public. We hope to convince new customers that our products are the best."

Ecumaster can be found at booth #4030.