2023 PRODUCTS ON SHOW
Day 2: FIA-homologated anti-explosion fuel bladders from Merin
Merin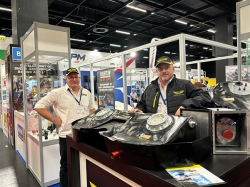 Regular exhibitor Merin is a safety fuel tank company that was founded in 1994 by a small group of technicians who were working for Pirelli. Their aim was to provide customized solutions primarily for performance and race cars.

Merin's team designs, manufactures and tests safety fuel cells totally in-house at the company's facilities just outside Rome, Italy. The automotive, aeronautical and maritime divisions manufacture customized, rubberized products to the highest level not only to achieve the required international certification but also to satisfy Merin's internal standards.

As Mauro Viti, the company's motorsport manager, explained, "On display at the show are anti-explosion fuel bladders that are FIA homologated (FT3-1999, FT3.5-1999 and FT5-1999)." He also outlined some of the benefits of working with the company, including quick response by minimizing red tape, R&D geared to customization, and quality management in pursuit of safety without compromise, combined to satisfy customer requirements.

Viti shared Merin's reasons for returning to the expo: "We have the opportunity to meet our main customers, including well-known car manufacturers like BMW, Ferrari, Lamborghini, Seat, Pagani and VW. The expo being strategically located in the heart of Europe allows us to easily connect with these key players in the automotive industry. We've already scheduled appointments with some of our customers, including Škoda. Last year, Ferrari was also one of our valued customers."

Merin is exhibiting with other Italian motorsport companies at the RPM Italy Booth 5000/6001.