2023 PRODUCTS ON SHOW
PMW Awards 2023 highlights motorsport innovation at its finest
The Professional MotorSport World Awards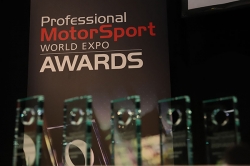 The Professional MotorSport World Awards returned for 2023 with a revised format recognizing excellence in the motorsport supply chain.

In a first for the awards, they were judged live at PMW Expo (November 8 & 9) on Day 1 by a panel of five industry experts spanning various motorsport specializations from rallying to Le Mans and with experience in powertrain, chassis and race engineering.

The five awards categories were Powertrain Technology, Chassis Technology, Safety Innovation and Data and Electronics Solution, with an overall award presented for Motorsport Engineering Innovation of the Year. The judges scored nominations based on their assessment of a product's innovativeness, market relevance and overall display of engineering ingenuity.

The Powertrain Technology category attracted the greatest number of nominations and was a closely fought battle between Austrian outfit AVL, which presented its hydrogen-fueled ICE engine to the public for the first time, and Bosch, which showcased its LMDh hybrid system. AVL sealed the win while also scoring the highest average of any product on show. This secured it a spot in the shortlist for the overall Motorsport Engineering Innovation award, which it won with a unanimous vote.

An observation common to the entire judging panel was the importance of hydrogen in ensuring the long-term sustainability of many racing series, and with an output in excess of 400bhp, AVL's engine proves that hydrogen and race-winning high-performance can go hand in hand.

There was a spread of technologies on show in the Chassis Technology category. Alcon's SMART brake inserts, designed to counter tapered wear of pads and eliminate inconsistent pedal feel, drew high praise, as did Mega-Line Racing Electronic's E-Clutch system, which is seeing great success in sportscar racing. However, the winning product was Bcomp's flax-fiber bodywork for the Super Formula SF23 single seater. Designed in conjunction with chassis manufacturer Dallara, the panels incorporate a seamless mix of sustainable flax fibers and more traditional spread tow carbon weaves, marking the first extensive use of sustainable composites in a high-level series.

The Data end Electronics Solution category was also hotly contested, with industry heavy hitters such as Cosworth, Ricardo and McLaren Applied all presenting high-end solutions for vehicle and powertrain control. However, it was Greek company Plex-Tuning and its PCA-2000plus portable combustion analyser that sealed the win. The judging panel was particularly impressed with the functionality that had been packed into the system – which only a few years ago would have been the preserve of high-end engine test facilities – coupled with an intuitive and clear software interface.

Finally, in the vital area of safety, there was again a diverse spread of technologies. FEV's CF-TEC2000EK fire suppression system, featuring Coldfire extinguishant, won praise. But it was EEC Performance Systems' E-Pod intelligent, wireless, fuel stop system that clinched top spot in the Safety Innovation category, with the judges impressed by the safety, flexibility and usability innovations it brings to pit stop refueling.

Professional MotorSport World Expo is being held on November 8 & 9 at the Koln Messe in Cologne, Germany.