Products on Show
DAY 1: Brand-new SR Series pads on show at EBC Brakes Racing booth
EBC Brakes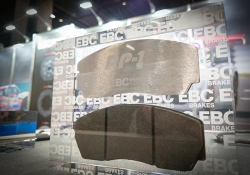 Formed in 2015 as a response to the ever-expanding trackday and race car markets, EBC Brakes Racing – a subdivision of EBC Brakes – is exhibiting its range of braking products which includes the RP Series and the brand-new SR Series pads at the company's booth.

Designed for vehicles driven hard on track, the RP-1 possesses a moderately high friction level of 0.45 from 100-750°C (200-1400°F). The more progressive response characteristic of the RP-1 makes it well suited for inherently over-servoed vehicles where a softer pad material is desirable to enable greater finesse when on the brakes. Then there is RP-X, which possesses a high friction level of 0.55 from 0-750°C (ambient -1400°F) and achieves a 100% brake effect from cold. This makes the RP-X

suitable for sprint racing or hill climb events, where full brake performance is essential without any warming up. The RP-X is also well suited to any type of circuit use where a high initial bite and powerful brake response is desirable.

The EBC sintered SR pads benefit from more bite and zero fade and claim to offer the lowest cost per racing mile of any pad. The SR11 medium friction compound and the SR21 ultra-high friction compound are targeted for use on the front and rear of race cars with bias controls only. SR is therefore only made in a limited range of ultra-fast street vehicle systems or for full race calipers from such as AP, Brembo, Alcon and Wilwood.

"The RP-1 has more bite than the road legal brake pads and is made for higher temperatures of up to 750°C, and the RP-X has a higher friction coefficient," explains Michael Gerhard, managing director, EBC Brakes Germany. "The SR is a sintered pad and is much more temperature stable and has an extremely high friction coefficient. These are produced for the highest performance applications."

EBC Brakes Racing can be found at booth #4036.