2023 PRODUCTS ON SHOW
Day 2: Alcon's insert solution for brake pedal degradation
Alcon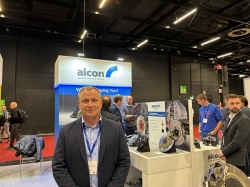 Alcon has officially launched its SMART Insert at this year's expo.

David Clegg, the company's principal motorsport brake engineer, will be demonstrating the new product live on the Technology Presentation Stage on November 9, at 14:00 (CET).

Branded SMART for Spherically Mounted ARTiculating inserts, the solution addresses brake pedal feel degradation from uneven or taper-worn brake pads.

Taper-worn pads introduce an angular gap between the pad and the caliper piston as the contact relationship is no longer parallel. A brake caliper with taper-worn pads will use more brake fluid in closing this angular gap when the brakes are applied and therefore present a longer brake pedal travel to the driver.

The product we are showing today is a piston insert intended for motorsport applications. It compensates for pad taper wear and will mitigate its propagation," said Clegg.

According to Clegg, the insert solution specifically resolves any angular gap between the piston and brake pad.

The SMART piston assembly comprises an insert that is retained by and articulates between two spherical surfaces. This then restores the co-planar/parallel relationship between the piston and the brake pad backplate.

"We already have this system in the marketplace, and we're looking to drive the technology into other areas of motorsport. PMW Expo is one of the biggest shows in Europe, so this event is the perfect place for promotion," Clegg concluded.

Visitors can attend Clegg's talk and find out more at Booth 6030.