2023 PRODUCTS ON SHOW
Day 2: Mapeex set to transform testing with new spin rig
Mapeex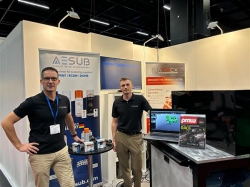 Mapeex has introduced its new transmission spin rig, which it claims to be a game-changer in the world of testing.

The compact transmission spin rig offers a good level of mobility, moving with ease through workshops or at racetracks for real-time evaluations. Users can put a wide range of products to the test at running temperature, with excellent ease and precision.

Mapeex says that its product obviates costly, time-consuming trials by streamlining the validation process, significantly reducing development time and expense. As Jo Litra, director at Mapeex Ltd and co-director at Mapeex Europe GmbH, explained, "This year at the show, we expect to meet potential clients and showcase our engineering capabilities in terms of high-precision scanning and reverse engineering. We have now successfully dealt with over 100 cases and believe our expertise could benefit more clients."

At Mapeex's booth, visitors are enjoying a video presentation of scanning and reverse engineering activities covering a wide range of fields, such as aircraft, yacht, motorsport, automotive and industry.

"As well as the introduction of our spin rig, we are exhibiting the MPX SR 3000, which has already proved to be an extremely precious tool for motorsport organizations in their preparations for racing," added Litra.
"With regard to the spin rig, the versatility of the machine allows us to respond to clients' requests, beyond conventional usage. Technical and adaptable options are being tested to accommodate further components and speed up preparation for racing, while significantly cutting costs."

Expo visitors can try out the transmission spin rig and witness its capabilities up close at Booth 15035.