Products on Show
High-performance natural-fiber composites
Bcomp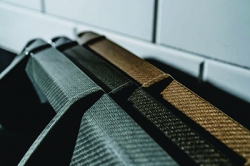 Bcomp will display its latest high-performance natural-fiber composites for motorsport. The company's ampliTex and powerRibs natural-fiber technologies feature in cars ranging from Porsche's 718 Cayman GT4 CS MR bodywork to McLaren's F1 seats, Mercedes-AMG GT4 bumpers and the latest BMW M4 GT4 car.
At the recent launch, BMW presented the serial GT car with the highest proportion of natural-fiber components to date. Much of the interior and exterior is made from ampliTex and powerRibs flax fiber composites; aside from the roof, there are almost no carbon-fiber-reinforced plastic (CFRP) components that were not replaced by the renewable high-performance flax materials.
Not only are the natural-fiber components superior in terms of sustainability – reducing the CO2 footprint by up to 85% cradle-to-gate and offering viable end-of-life solutions – but they also have performance advantages such as 250% higher vibration damping and much safer crash behavior compared with carbon-fiber parts, due to blunt edges and the lack of sharp splintering.
BMW Group is now working hard to ensure that these new material technologies find their way into BMW M models and BMW M Performance parts. Further collaboration between BMW Group Research and Bcomp will focus on new sustainable material solutions for future production models as a key element of the group's sustainability strategy, which seeks to lower vehicle lifecycle carbon emissions by over 40% by 2030 compared with 2019 levels.