2023 PRODUCTS ON SHOW
Day 2: Life Racing upgrades portfolio with D7 display dash
Life Racing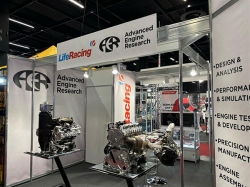 Life Racing continues to develop innovative and advanced electronics for automotive and motorsport applications.

Exhibiting at the show with its sister company, Advanced Engine Research, on display is an upgraded range of dashes currently in development, including the all-new D7 7in display dash.

According to Achilleas Aloupas, a technical support engineer at Life Racing, "The biggest challenge during product development was packaging such a powerful component into a small device and sourcing the electronic components to make this possible – which was made harder due to the semiconductor crisis."

Building on the success of the current range of displays, the models on show include features such as an internal GPS and IMU, frequency-capable inputs, PWM-capable outputs, IP67 compliance and an internal battery for a real-time clock. The new dashes will be housed in CNC billet-machined casing along with a motorsport-grade connector.

Life Racing has also refreshed its range of PDUX devices. Also in development is a combined datalogging and GCU device for applications where discrete electronic engine control is not required.

Aloupas added, "We are exhibiting with our sister company, Advanced Engine Research, to discuss and provide packages from engines and electronic systems to whatever the customer's needs are."
Find out more at Booth 4070.