Products on Show
DAY 1: FEV showcases fire suppression systems for latest FIA standards
FEV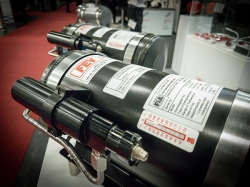 UK-based safety company FEV is showcasing its broad portfolio of systems and products for the motorsport sector.

The company's comprehensive fire suppression range, on show at the expo, is FIA certified and has been designed and developed utilizing 30 years of experience to bring the latest safety advancements for vehicles on racetracks all over the world.

FEV's fire suppression portfolio includes the plumbed-in N-TEC2950R, a fire suppression system been designed to use 3M Novec 1230 Fire Protection Fluid. The waterless suppressant is capable of extinguishing flames in only a few seconds, in addition to protecting expensive onboard equipment including electronics as it leaves no residue and is electrically non-conductive.

Alongside plumbed-in fire suppression products sit FEV's handheld devices such as the F-TEC240HH which meets all FIA and MSUK requirements. The N-TEC2000HH and N-TEC2500HH handheld fire extinguishers can be used in any orientation, enabling their use for fires occurring underneath vehicles or in tight spaces such as engine compartments.

"We design and manufacture fire extinguishers in the UK for the motorsport industry and supply a range of teams from F1 to WRC, GT categories and Le Mans and LMDh," explains Jack Sexton, design and development manager, FEV. "At today's Professional MotorSport World Expo we have a wide range of fire safety systems on show, including the plumbed-in N-TEC devices and the handheld F-TEC products which cater for a wide array of budgets and uses."

FEV can be found at booth #6030.