2023 PRODUCTS ON SHOW
Day 1: Italtecnica's sustainable solution for ICEs
Italtecnica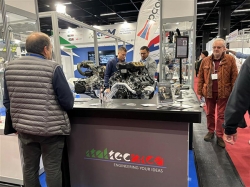 Finding a sustainable future for internal combustion engines (ICEs) is a challenge. However, with over 35 years' experience in racing and high-performance powertrain and a team of expert engineers, Italtecnica aims to solve the problem.

At this year's expo, Italtecnica, which is part of the RPM network, will showcase a patented passive pre-chamber that can be retrofitted to most existing engines. The system is thoroughly tested and calibrated to run with ethanol and methanol, with ultra-lean combustion to cut emissions.

Danilo Brossa, technical director and automotive engineer in Italtecnica's testing department, explained, "Using the best technologies available on the market (01-D analysis, CFD, FEM, CAD) internal combustion engines can evolve, finding a perfect trade-off between performance and respect for the environment."

The company's R&D department is testing the new generation of this technology, fueled by hydrogen, which can reduce greenhouse gases and particulate matter to almost zero.

Brossa added, "We are exhibiting our new combustion chamber fueled by hydrogen, with a patented passive pre-chamber system able to reach efficiency close to 45%. We believe in the future of ICEs and are working every day to achieve this goal."

You can find Italtecnica exhibiting at RPM's Booth 5000/6001.