Speaker Details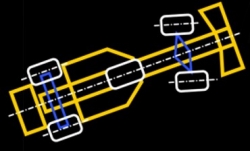 Ton Serné
Ton Serné is a Mechanical Engineering specialized in vehicle dynamics. He was mechanic in Formula classes like FF1600, FF2000, F3 and F1. Also, he raced Formula Ford and various saloon cars. Nowadays he is visiting lecturer 'Vehicle Dynamics' at Fontys University Eindhoven and is a free-lance performance engineer focusing on the dynamcis of the car. Ton is co-author of the book 'Rennwagentechnik - Praxislehrgang Fahrdynamik', available in the English language as 'Race Car Handling Optimization'. Ton runs seminars for engineers and drivers, a.o. with alumni like Max Verstappen (WCF1), Rinus VeeKay (IndyCars) and Job van Uitert (LMP3).
---
Presentation
Some guidelines for calculating the proper spring rate
This presentation will help attendees to avoid choosing the desired spring rate simply by rule-of-thumb. It will discuss the most important aspects of the calculations necessary. For example: What aspects influence the required spring rate, which forces are acting on the spring (and which are not), how to calculate the spring rate, and finally how to convert the main spring rate to the spring rate in the contact patch.