Speaker Details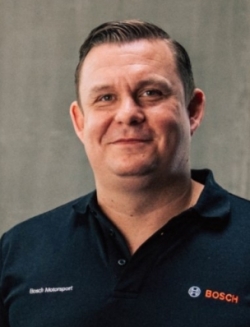 Karl Kloess
Karl Kloess is Senior Engineer and Technical Project Manager for electric vehicle and hybrid electric vehicle systems at Bosch Motorsport. As project manager for the LMDh spec hybrid system he was recently responsible for the development and integration of the system of LMDh cars racing in IMSA Weathertech Sportscar Championship and FIA World Endurance Championship. His journey in electrification and hybridization of vehicles started more than ten years ago during his studies at Baden-Wuerttemberg Cooperative State University (DHBW) in Electric Engineering – Vehicle Electronics. During his studies he was working for Mercedes-Benz and has already gained initial experience in lots of different areas in component and system development. In parallel, Karl had the chance to work on his first electrical vehicle race car in Formula Student Electric coordinating the development efforts as team captain in his final year. Starting at Bosch Engineering in 2013 in system development of high voltage system design, he became an expert for high voltage system in hybrid and electric vehicles and was leading several electric vehicle and hybrid electric vehicle prototype studies. About a year ago, Karl started as an expert in the LMDh project at Bosch Motorsport and is looking forward to driving forward electrification in motorsport.
---
Presentation
Overcoming obstacles with one electrifying goal: LMDh
The new LMDh concept is anything but an ordinary development project for the world of racing: a uniform hybrid drive system for racing cars to compete in IMSA GTP and WEC Hypercar categories. Bosch Motorsport and WAE acted as development partners, alongside X-TRAC, for this challenging project. After less than three years, a pandemic, and several thousand hours of work, the highly complex prototypes lined up for the start at the ROLEX 24h at Daytona 2023. Learn more about the challenges, the collaboration between all stakeholders, and the system and its components.