Speaker Details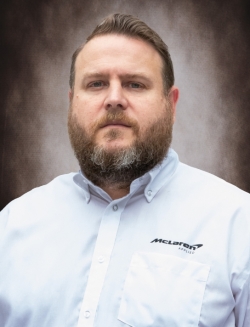 Neil Palmer
Neil Palmer is Head of Electrification, Motorsport at McLaren Applied, responsible for business development, project delivery success and strategic business planning for all electrification-related motorsport activities. With over 20 years' experience in the electronic design, development and manufacturing industries, Neil has worked across multiple industries including aerospace, marine, oil & gas and automotive. Neil's focus for the last decade has been electrification in automotive, through his time with Ricardo and now driving the adoption of electrification technologies through motorsport applications such as hybrid technologies for Formula 1 and pure EV applications in Formula E at McLaren Applied.
---
Presentation
The need for a constant innovation cycle
Often people talk of road to race and the need for IP generated in motorsport to have relevance and carryover to automotive applications for our roads. At McLaren Applied we have learned that this is a constant cycle of passing IP generated for motorsport to the road, and also taking IP generated from automotive and feeding back into motorsport. An overview of inverter developments over the last ten years in and out of motorsport.