Products on Show
DAY 1: Druck presents its advanced pressure measurement technology for the motorsport industry
Druck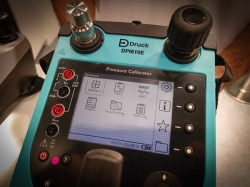 Pressure measurement technology chosen for Formula racing, the World Rally Championship, the Indy Racing League, MotoGP and British Super Bikes, amongst others, is being presented by Druck at this week's PMW Expo.

Druck's most advanced sensor for the motorsport industry, the PMP 4400, is a small, lightweight solution which has been designed to provide enhanced levels of accuracy and reliability. It is capable of monitoring all chassis and engine pressure requirements including brake, fuel, tire, manifold and air pressures which can directly impact vehicle performance.

Despite being just 12.5mm in diameter and weighing less than 25g, the PMP 4400 is robust and can perform at temperatures from -20°C to +175°C, in addition to withstanding the extreme vibrations and shocks associated with racing. The sensor is available at pressure ranges from 1.6 to 350bar.

Druck is also exhibiting its DPI 610E and DPI 705E series test and calibration equipment at the show. The DPI 610E is a portable, complete pressure calibration tool that offers best-in-class accuracy – down to just 0.025%. It provides pneumatic pressures to 35bar/500psi and hydraulic pressures up to 1,000bar/15000psi. The handheld device can operate over a temperature range of -10°C to +50°C and features a backlit high-contrast display and a countdown to calibration function.

Full datalogging capabilities are included, with a hazardous area version available too. The DPI 610E can be used as part of a plug-and-play system with Druck's PM700E pressure sensor and Resistance Temperature Detector (RTD-INTERFACE).

The DPI 705E provides accuracy and reliability combined with a rugged design – essential for conducting testing and measurements within motorsport. When paired with a tire pressure hose the DPI 705E becomes a fast and easy-to-use device for race-critical tire pressure monitoring. This handheld pressure indicator operates across 41 pressure ranges, from 25mbar to 1,400bar. It is compatible with Druck's pneumatic and hydraulic hand pumps and with optional remote plug-and-play pressure (PM700E) and Resistance Temperature Detector (RTD-PROBE) sensors.

Druck's range of PACE pressure monitors and controllers are also on show at the expo.

"Druck is displaying the new combined 4400T sensor which is a combined pressure and temperature sensor. It is a very small sensor based on their existing 4400 series sensor but with the addition of a temperature sensing element in the front," explains Clive Hill, chief engineer at Elite Sensors who are exhibiting alongside Druck. "The sensor is coming to the end of its development cycle and will be available soon."

Druck can be found alongside Elite Sensors at booth #4014.